State-of-the-art design for Construction & Incident Management Roll-up Signs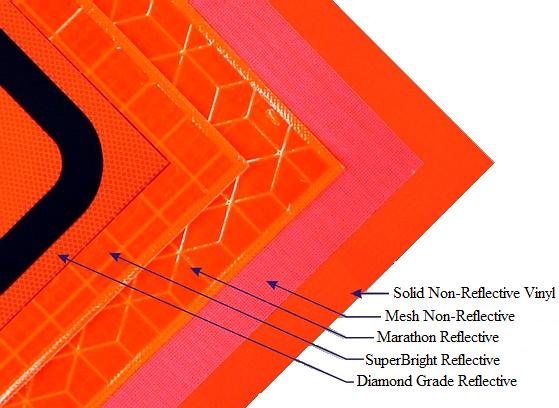 We offer the highest-quality roll-up signs and stands available in a variety of styles and colors (Mesh or Vinyl) with standard highway legends or emergency messages. Or they can be custom made, with your own silhouette-style logo, design and wording. (A one-time screen  set-up charge of $60 applies to custom legends for Fold & Roll or Marathon type roll-ups only).  Our roll-up signs are light-weight and designed for visibility, durability and flexibility with limited storage space in mind. Available colors: Non-Reflective Orange, or Reflective Fluorescent Orange, Yellow, White, Yellow-Green (Lime) or Pink (Coral). They come as diamond-shaped 36- or 48-inch signs or Red-and-White octagons (for STOP signs) and rectangles for other construction-related messages, such as Black-on-White for ROAD CLOSED signs. Choose any standard message and color combination. Designed for fast set-up and take-down and compact storage. Each is manufactured with quality vinyl sheeting made by Reflexite or 3M, the largest makers of roll-up sign material in the world. Every roll-up sign comes with a pair of strong, solid Orange fiberglass rib supports (1/4 to 3/16-inch thick and 1 1/8-inch wide) and can be attached to most sign stands on the market with roll-up sign brackets. The latest addition to our roll-up lineup is Fluorescent Pink, designed for high visibility for Incident Management, including accident and other emergency first-responders:  Police, fire, emergency medical and department of transportation personnel. The stand-out Pink color is also used in Homeland Security training exercises and emergencies. The Coral-colored signs are made of durable, flexible reinforced microprism retroreflective sheeting, and meet criteria outlined in the federal sign manual, the Manual on Uniform Traffic Control Devices.

Color Options:
Orange, Yellow, White, Lime & Pink

Mesh
Non-Reflective


(Reflexite)


Solid Vinyl
Non-Reflective


(Reflexite)


Superbright™
(Reflexite)

Diamond Grade™ (3M)

Marathon™
(Reflexite)
Vinyl-coated Non-Reflective Orange nylon with open-weave mesh. Day use only.

Durable 18-ounce re-enforced vinyl in Non-Reflective Orange. Day use only.


(Most Popular)
Reflective

for day or night use. Available in  Fluorescent Orange, Pink, Yellow or White.

Durable vinyl with Gray backing.

Durable Reflective vinyl designed for day or night use. Available in Orange. Comes with Gray back.

Extra heavy-duty Reflective vinyl

for
day or night use. Available in Fluorescent Orange or Lime for high visibility. Includes Gray backing.

Quality Design for Durability and Long Life
Delta horizontal pockets (left, first photo) are designed with three rivet points for strength, have a shallow depth for easier deployment and narrow shape for compact storage. Our fiberglass rib supports are riveted in the center to prevent tightening or loosening over time, a characteristic of inferior nut-and-bolt assembly type roll-up sign design.

Sample Construction-related Roll-up Sign Legends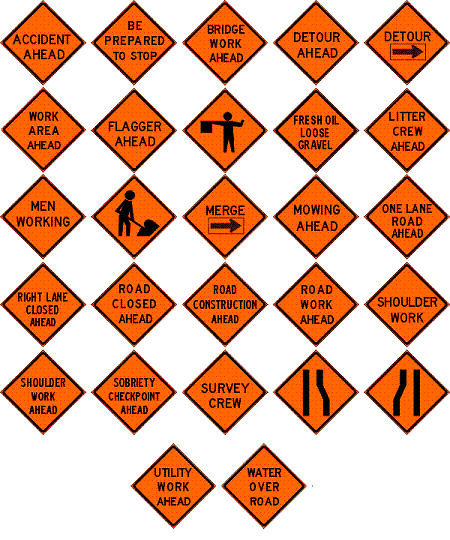 (A complete list of standard legends for roll-up signs is shown at the bottom of this page).


Overlay Patches
Attaches to sign with Velcro. Choose any message – standard or custom.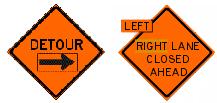 Standard Construction Overlays

500 FT
1000 FT
1500 FT
2000 FT
1/4 MILE
1/2 MILE
3/4 MILE
1 MILE
ONE
LEFT
RIGHT
CENTER
POLICE
FIRE
ROAD
DETOUR
CLOSED
TRAINING
ACCIDENT
 STAGING
 Arrow
symbol
Bar
symbol
Blank
Overlay
Lane Drop-off
(W4-2)
List of Standard Roll-up Sign Messages
(Most popular legends in bold)
Note: Standard roll-up sign legends are shown below with capital letters for word signs and lower-case letters for symbol-type signs. Custom messages and symbols available free, except for Fold & Roll or Marathon roll-ups, where a one-time $60 setup charge applies.

ACCIDENT  AHEAD

ACCIDENT AHEAD
RIGHT LANE

ACCIDENT  DETOUR
AHEAD

Arrow  Left  symbol
(45-degree)

Arrow  Right  symbol
(45-degree)

BE  PREPARED  TO  STOP

BEGIN  MOWING  ZONE

BLASTING  ZONE
TURN  OFF  2-WAY  RADIO

Border  only
(No text or legend)

BRIDGE  INSPECTION  CREW

BUMP

BUMP  AHEAD

CAUTION  HIGH  WATER

CAUTION  LOG  TRUCKS

CAUTION  Pedestrian
Crossing symbol

CAUTION  SMOKE
OR  FOG  AHEAD

COMMAND  POST

CREW WORKING

DETOUR AHEAD

DIP

EMERGENCY  SCENE  AHEAD

EMERGENCY  TRUCK
REPAIR  AHEAD

END  MOWING  ZONE

END  ROAD  WORK

END  UTILITY  WORK

EQUIPMENT  IN  RIGHT  LANE

EXIT  with Arrow
(45-degree  Right

EXIT  CLOSED

FIRE  ACTIVITY  AHEAD

FIRE TRAINING AHEAD

FIRE  TRAINING  CENTER

FLAGGER AHEAD (W20-7)

Flagger symbol (W20-7a)

FLAGMAN AHEAD

FRESH  OIL

FRESH OIL
LOOSE  GRAVEL

FRESH  TAR

GIVE  US  A  BRAKE
SLOW  DOWN

GUARDRAIL  DAMAGE
AHEAD

HEAVY  EQUIPMENT
CROSSING

HIGH  WATER

HIT A WORKER $10,000 FINE 14 YRS IN PRISON

INCIDENT  AHEAD

LANE  CLOSED  AHEAD

Lane  Shift  symbol
(Left or Right)

LEFT  LANE  CLOSED

LEFT  LANE  CLOSED  AHEAD

LITTER  CREW  AHEAD

LITTER  PICK-UP  AHEAD

LOG  TRUCKS
ENTERING  HIGHWAY

LOW  SHOULDER

MEN  WORKING

MEN  WORKING  AHEAD

MERGE  AHEAD

MERGE
(LEFT or RIGHT words or with Arrow Right or Left)
MOWERS  AHEAD

MOWING  AHEAD

MOWING OPERATIONS AHEAD

MOWING ZONE

NO  CENTER  STRIPE

NO PHONE ZONE

NO  RIGHT  TURN

ONE  LANE  ROAD  AHEAD

ONE  LANE  AHEAD

PIPELINE CONSTRUCTION AHEAD

PIPELINE  CROSSING  AHEAD

POTHOLE  REPAIR  AHEAD

POWER  LINES
(with Arrow  up)

PREPARE  FOR  SUDDEN  STOP

PREPARE  TO  STOP

PRESCRIBED  BURN  AHEAD

PRESCRIBED  BURN  AHEAD
DO  NOT  REPORT

RAMP  WORK  AHEAD

REDUCED  SPEED
AHEAD

RESUME  SPEED
THANK  YOU

RESTROOM  BUILDING
CLOSED

RIGHT  LANE  CLOSED

RIGHT  LANE  CLOSED
AHEAD

RIGHT  SHOULDER
CLOSED  AHEAD

RIGHT  TURN  LANE  CLOSED

RIGHT  TWO  LANES  CLOSED

ROAD  CLOSED

ROAD CLOSED AHEAD

ROAD  CLOSED  TO
THRU  TRAFFIC

ROAD  FLOODED

ROAD MACHINERY AHEAD

ROAD  WORK  AHEAD

ROAD  WORK  AHEAD
FRESH OIL

ROUGH  ROAD

SAFETY  BELT
ENFORCEMENT ZONE SAFETY RESTRAINT CHECKPOINT AHEADSHOULDER  CLOSEDSHOULDER DROP-OFF

SHOULDER  WORK

SHOULDER  WORK  AHEAD

SIDEWALK CLOSED

Slippery When Wet
symbol (W8-5)

SLOW

SLOW SOBRIETY
CHECKPOINT  AHEAD

SOFT SHOULDER

SPEED LIMIT
(Choose Speed)(/small)

SPRAYING  OPERATIONS  AHEAD

STATE  POLICE
SAFETY  CHECK

STEEL  PLATE
IN  ROADWAY

STOP  AHEAD

STOP Sign
(octagon)

SURVEY  CREW

SURVEY CREW AHEAD

SWEEPER AHEAD

TELEPHONE WORKERS AHEAD

TOW TRUCK AHEAD

TRAFFIC EMERGENCY
AHEAD

TRAFFIC FINES DOUBLE IN WORK ZONES

TRAFFIC FINES DOUBLED IN WORK ZONES

TRAFFIC SURVEY AHEAD

TRAINING EXERCISE
AHEAD

Lane Drop-off symbol (Right or Left) (W4-2)

TREE WORK AHEAD

TRUCK  CROSSING

TRUCK  SCALES  AHEAD

TRUCKS  ENTERING

TRUCKS ENTERING AND LEAVING HWY.

TRUCKS  ENTERING
HIGHWAY

TRUCKS  HAULING

UNEVEN  LANES

UTILITY  CONSTRUCTION  AHEAD

UTILITY  WORK  AHEAD

UTILITY WORKERS AHEAD

WATCH  FOR  SLOW  TRAFFIC

WATCH  FOR  STOPPED  TRAFFIC

WATCH  FOR  WATER
ON ROAD

WATER  BREAK  AHEAD

WATER  OVER  ROAD

WORK  AREA  AHEAD

WORK  ZONE  BEGINS
(square)

Worker  symbol (W21-1a)

WORKERS

WORKERS  AHEAD

WORKERS  ON  ROADWAY

YIELD  (inverted triangle)