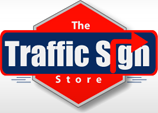 Frequently Asked Questions
Q. Can anyone legally purchase a traffic sign? Or are they only for government agencies? Yes. Private individuals can legally purchase traffic signs for use on private or public property to guide traffic flow or establish parking rules, or simply to decorate a child's room. We offer all the colors and shapes contained in the federal MUTCD sign manual, and make custom reflective signs as well.
Q. What is the difference between Standard Reflective, or Engineer Grade (also known as Type I), and High Intensity (Type III) and Diamond Grade (Type XI) reflective sign material?  It may surprise you to learn that no paint is ever used in the process of making traffic signs. Signs are made by applying under great pressure reflective vinyl film onto .080 or .125 sheet aluminum, which creates a very long-lasting bond. Once applied, it is impossible to remove the material without destroying the sign. There are three types of reflective material used in making traffic signs. They are Engineer Grade, High Intensity and Diamond Grade:
– Engineer Grade signs reflect at night when light hits the sign. The retro-reflective beaded material has a lifetime of seven years. It generally is used for parking signs, other non-critical signs and also provides a less-expensive alternative. We use Engineer Grade Prismatic material for our Standard Reflective signs, which is a higher-end material than traditional Engineer Grade.
– High Intensity signs are used in areas where the street lighting at night might interfere with a sign's reflection. It is 10 times more reflective than Type I, has a 10-year life implied warranty for reflectivity and is the material most cities use for traffic signs. Our Type III signs are referred to as High Intensity Prismatic.
– Diamond Grade reflective material is at the highest level of reflectivity for traffic signs and is most commonly used on Interstate highways and construction projects – and in areas where high visibility is critical. It includes the colors Fluorescent Orange and Fluorescent Yellow-Green, which is used most often for signs posted at school, pedestrian and bicycle crossings. Our Diamond Grade Prismatic Type XI sheeting has a 10-year life, and meets or exceeds all state and federal requirements.
Q. Traffic sign installation instructions A good source on how to install a traffic sign in rural or urban areas is a guide called the Sign Installation Guide, which is a document assembled by several federal government agencies, including the Federal Highway Administration.
 Q:   How do I pay?    You may use any major credit card, PayPal, check or money order. Credit card and PayPal checkout is available online through our securely encrypted shopping cart system or can be authorized by calling (309) 828-1007. Check or money order payments can be sent directly to us at: The Traffic Sign Store, 1231 North Mason Street, Bloomington, IL  61701. Government agencies may invoice 30-day Net.
Q:    How long do I have to wait for delivery?     Most signs ship the day after order and are delivered within just a few days via FedEx Ground or Home Delivery service. A few examples in the U.S.: Anywhere in the Midwest – 1 to 2 business days; East Coast Maine to Florida and central states Montana to Texas – 3 business days; California, Arizona, Idaho, Oregon,  Nevada –  4 business days.
Q.   How much does shipping cost?
We pay shipping for sign orders of $150 or more for sizes less than 30 x 30-inches. The free shipping offer does NOT apply to signs delivered outside mainland US or for products other than signs, such as traffic cones, barricades or sign posts.  Click on
Shipping Rates
to obtain shipping costs for signs delivered FedEx Ground. Canada shipments generally can go FedEx or UPS Standard,  with 3-day transit time. Also important to note is that under terms of NAFTA, traffic signs are identified as NAFTA Item No. 8310 and are duty-free from the U.S. to Canada. NOTE: Shipping estimates shown apply only to mainland US. Check with us to obtain rates for orders to be delivered outside mainland USA and for domestic overland freight. 
 Q. What is your return policy?
Non-custom, standard MUTCD signs may be returned if they are undamaged and unused. However, all returned items will be assessed a 15 percent restock charge, and you must pay for return-shipping. Approval must be obtained before returns are sent to us by calling (309) 828-1007.  Unapproved returns will not be accepted. Custom signs CANNOT be returned.
Note: Items purchased from The Traffic Sign Store may be returned within 30 days of the invoice date. The product must be unused and in the original packaging. Once the item is received, a refund will be issued within 3-5 business days. Any defect, discrepancy or shortage must be reported within 30 days or the sale is final. 
More About The Traffic Sign Store  
We are dedicated to customer service and satisfaction and proud of our more than half a century of experience in the traffic sign industry.  Our mission is to offer customers rapid delivery of quality products at the lowest possible cost.  Traffic Sign Store is one of the fastest-growing traffic-sign companies in the United States. It manufactures and distributes signs worldwide per state and federal specifications outlined in the federal Manual on Uniform Traffic Control Devices (MUTCD). The company is a prime vendor for many government agencies. Many signs we make are displayed on our web site. For other signs, or information on prices, availability or quantity discounts, call or email (309) 828-1007 or  
Sales@TrafficSignStore.com
or regular mail at: The Traffic Sign Store, 1231 North Mason Street, Bloomington, IL  61701.