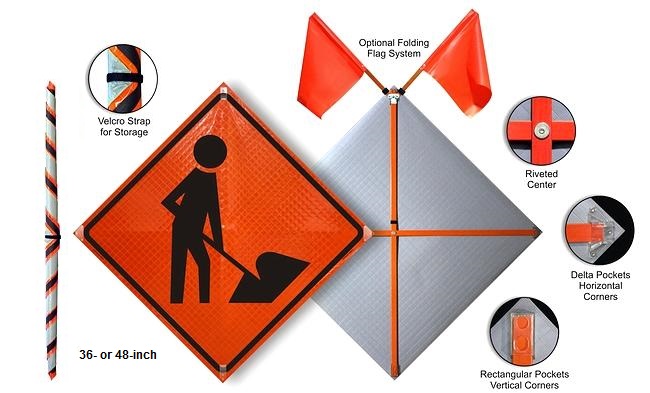 We offer high quality, durable MUTCD-compliant roll-up signs and sign stands. Choose Non-reflective (day use only) Orange Mesh or Vinyl. Or, Reflective Fluorescent Orange, Pink, Yellow, White or Lime. Diamond shaped signs are 36- or 48-inch, or can be octagon, square or rectangle shape in various sizes, with standard or custom messages (add $60 screen set-up charge for custom legends for Mesh or Fold & Roll systems). Signs have durable plastic corner pockets and heavy-duty rib supports compatible with any manufacturer's roll-up sign stand. Or choose the Fold & Roll-type sign/stand combo where the sign and stand compactly fold up together.

Five available colors: Orange, Pink, Yellow, White or Lime.
Commonly used Orange Construction roll-up signs can be seen at bottom of page.
Fold & Roll System
Fold & Roll
(Sign & Stand combined)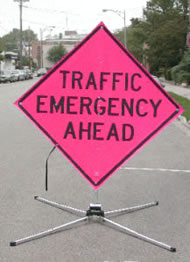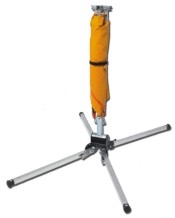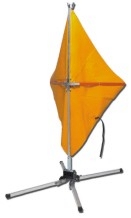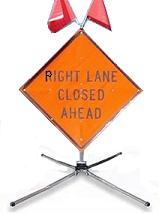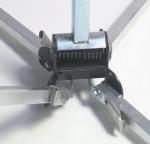 Deploys in less than 20 seconds. Dual torsion coil spring design.
The Fold & Roll system uses a fold-up/roll-up design that allows for compact storage and easy transport. It features kick release legs and spring-lock hubs that allow for quick, hassle-free set-up. Its dual horizontal coil spring permits the stand to hold up in winds up to 65 MPH and reacts smoothly in gusty conditions. Available sizes are 36- (21 lbs) or 48-inch (24 lbs) sizes. Storage size is either 36- or 48-inch x 9-inch square.Signs come with standard or custom messages in your choice of non-reflective Orange, or reflective Orange, Yellow, Pink, White or Lime. The Dynaflex stand is made of light-weight aluminum and steel with telescoping legs that lock into place when fully extended. Open footprint: 92 x 57 1/2 inch. Displays sign 12 inches off ground. MUTCD-compliant and NCHRP 350 approved. System includes double flag-holder and two 18-inch Fluorescent Red-Orange vinyl warning flags.
Optional: Heavy-Duty Storage Bag – 36-inch  $74.50 / 48-inch  $84.50